Groz-Beckert in numbers
Founded in 1852, Groz-Beckert remains in family hands. The company employs more than 8,800 people and turned over about 740 million euro in 2017.
Many production and sales affiliates and trading partners give Groz-Beckert a worldwide presence in more than 150 countries around the globe.
Rise in 2017 turnover
In fiscal year 2017, group turnover rose by 75 million euro (about 11%) to 740 million euro. Positive sales growth in all subdivisions contributed to the company's success. A large share of the growth is due to the acquisition of Ferd. Schmetz Group on 2 January 2017.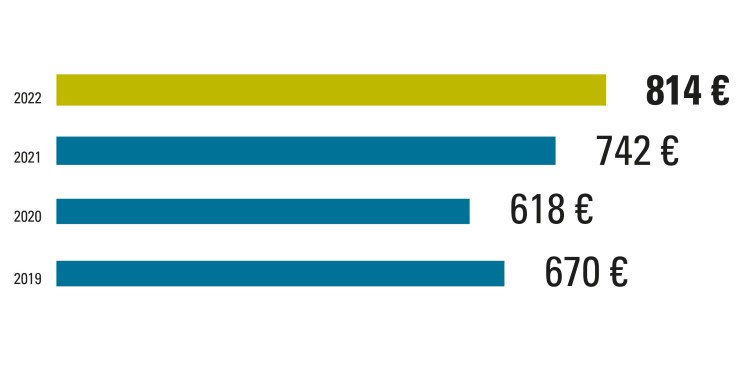 In million euros

Rise in employee numbers in 2017
On record date December 31, 2017, Groz-Beckert employed 8,813 employees worldwide; 1,120 more than in the previous year. Around 700 employees alone came with the acquisition of Ferd. Schmetz Group.

Employees worldwide
At the end of 2017 there were 5,100 persons working at Groz-Beckert in Europe, of those 2,114 at the headquarters in Albstadt. About 3,600 persons were employed in Asia and 130 in North America.
Are you already familiar with our newsletter?
The Groz-Beckert newsletter keeps you informed on all the latest developments in the textile world. Would you like to know more? Go ahead and register.
to the newsletter