Groz-Beckert at Innovate Textile & Apparel
Special circumstances require special measures. We would have liked to have welcomed you at numerous trade fairs in person this year, but we are delighted to be able to pass on Groz-Beckert news in the form of the virtual event Innovate Textile & Apparel Virtual Trade Show – and to interact with you via this platform.
The ITA will take place from 15 to 30 October, 2020, and the employees from our Knitting and Weaving product areas will be there for you around the clock for the entire 15 days worldwide. At our virtual trade fair booth, we offer you a technical seminar, meetings, live chats, brand new videos and much more.
Our virtual booth
We will also be there for you with the usual look at the Innovate Textile & Apparel Virtual Trade Show.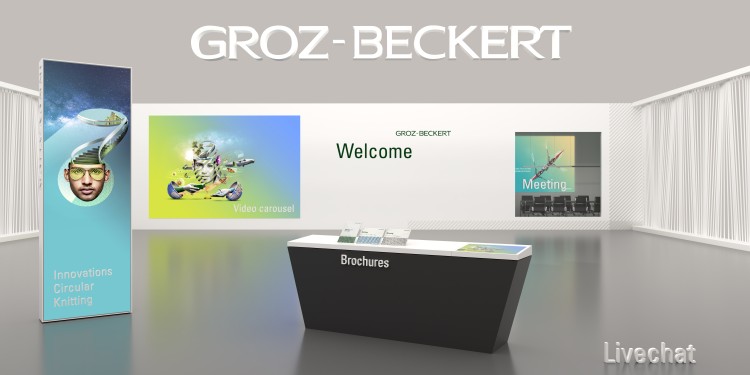 Our product highlights
Groz-Beckert's main focus at Innovate Textile & Apparel 2020 will be on the Knitting and Weaving product areas. Here is a preview of some of the highlights you can expect at our virtual trade fair booth.
Perfect for staple fibers – SAN™ SF and SNK SF
At ShanghaiTex 2019, the new special application needle for SAN™ SF staple fibers was presented to the general public for the first time. Just in time for Innovate Textile & Apparel, Groz-Beckert is now presenting the matching sinker SNK SF. Both products have been specially developed for the use of staple fibers on large diameter circular knitting machines.
The areas of legwear, flat knitting and warp knitting are also represented at ITA with interesting products. These include sock needles with dur™ technology, flat knitting needles specially designed for the manufacture of technical textiles and perfectly coordinated warp knitting tools.
Healds and KnotMaster
Groz-Beckert's technical expertise for your entire value chain
Functional healds are the small but decisive detail for greater efficiency and productivity of the weaving machine.
The KnotMasters from Groz-Beckert are powerful tying machines offering impressive technology and ease of use for a wide range of applications and different types of yarn, including cotton, synthetic and elastane. Customers benefit from rapid warp change and reduced idle times, and thereby from economical weaving preparation.
New videos
In the video carousel at the virtual trade fair booth, you will find lots of interesting animations from the areas of weaving and knitting, including two completely new animations, which will be presented for the first time at Innovate Textile & Apparel. Prepare to be surprised.
Are you familiar with the Groz-Beckert Customer Portal?
At the trade fair, we will also be presenting the Groz-Beckert Customer Portals – each specialized in a product area. We would be happy to answer any questions you may have about registration, functions and use. Would you like to order Groz-Beckert products online now? This way to the Customer Portals.
Register now for the virtual trade fair
Register free of charge to attend the Innovate Textile & Apparel and visit us at our virtual booth.