Welcome to our virtual exhibition booth
In May, we are opening our virtual exhibition booth for you. For four days you can learn about the newest products and services offered by Groz-Beckert. We look forward to your visit.
When: 17–20 May 2022
Where: Groz-Beckert virtual exhibition booth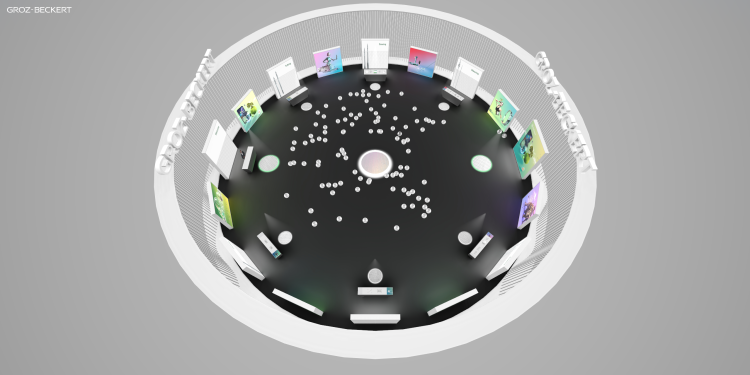 Our virtual exhibition booth is a 3D environment that can be entered and explored virtually. So you can stroll about our booth, take a look at the exhibits and, if desired, have a Groz-Beckert employee explain the products on display in detail – just as if you were actually at an exhibition booth on site.
Besides the exhibits from the individual product areas, our virtual booth includes another very popular area from past exhibitions: The Selfie Point. So there is nothing standing in the way of your souvenir photo – even if it is a virtual visit.
To visit the virtual booth, free prior registration is required. To register, please click the link below.
You will receive a confirmation e-mail with your login data. When logging in, you can complete your personal profile with a picture, if you wish.
All details can be changed in your personal settings at any time.
With your personal access data you can visit our virtual booth on all days of the exhibition.
This is how the virtual booth works
Navigation
You can move about the booth by clicking the illuminated points of interest.
You also have the option to directly access the individual areas via the thumbnail view of the booth in the lower left corner of the screen.

View exhibits
Once you have reached the desired display table, you can view the exhibited products in 3D. To do this, click the corresponding model.
You can rotate all exhibits 360° in any direction and, by clicking the highlighted areas, go into further detail and get interesting information about the individual products.

Watch the video
In the center of the virtual booth you can find out "Who we are" by watching the Groz-Beckert image film.
Communicate with others
You would like to get in touch with Groz-Beckert employees or other visitors? Just click the avatar of the relevant person or their name in the list, then click the phone icon.
There is a lot going on at the booth or you can't find a person? You can also easily search for other visitors using the list on the right side of the screen.

Show and hide avatars of other visitors
You want to see who else is at the booth and possibly contact them? Then leave the avatars displayed.
If you prefer to explore the booth at your leisure and have an undisturbed view, you can simply hide the avatars of other visitors by clicking the avatar icon in your profile information.