Groz-Beckert with Sewing Division at Konfeksiyon Makinesi in Turkey
21 Aug 2018
Albstadt, Germany/ Istanbul, Turkey: Konfeksiyon Makinesi will host the most important regional trade fair for sewing and clothing in Istanbul, Turkey, from 20 to 23 September 2018. Groz-Beckert will be exhibiting its Sewing product range once again this year at the "Tüyap" exhibition center. The focus at Booth 618, in Hall 6 will be on the INH Quality Management and the Sewing Online Customer Portal.
The garment industry faces many challenges today. Alongside general demands for the highest possible productivity, maximum occupational safety and various environmental considerations also play a major role. Increasingly stringent regulations of brand owners and department stores must be be observed. Support is provided by a Quality Management system developed by Groz-Beckert, perfectly tailored to the process in sewing companies.
Since 2016, INH (Ideal Needle Handling) Quality Management has represented a patented process for problem-free and time-saving handling of broken and damaged sewing machine needles. The accessories specially developed by Groz-Beckert for the INH Quality Management, compliment the process in every respect. With Smart INH, the latest component of the Quality Management system, Groz-Beckert is now enabling the digital documentation of all needle breakages and all regular needle changes. Users are supported by the specially developed "INH@site" app and the "INH@office" management program. While INH@site can be used to photograph broken needles and document them as a digital image data set, INH@office offers the option of completing these data sets, managing them and running various assessments. This removes the need for physical documentation and storage of the broken needles - paving the way for immediate and environmentally-friendly disposal.
Groz-Beckert also supports its customers online in all aspects of the production process. The Groz-Beckert Customer Portal will be another highlight of the fair.. The ever-expanding knowledge database provides customers with a wealth of information about seaming technology as well as many details about Groz-Beckert Sewing products - around the clock, around the world. In addition to animations on various types of stitching, Groz-Beckert also offers a newly developed product catalog for a quick and reliable search for the desired products.
At the needle manufacturer's booth, a live animation will also provide visitors with a unique insight into the Type 504 stitch formation process. With this overlock stitch, the materials are not just sewn together, but the seams are also trimmed and the seam allowances cut.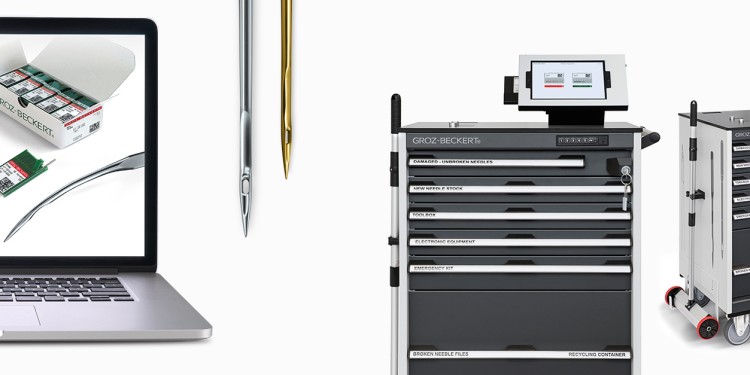 About Groz-Beckert
Groz-Beckert is the world's leading provider of industrial machine needles, precision parts and fine tools as well as systems and services for the production and joining of textile fabrics. The products and services support the fields of knitting, weaving, felting, tufting, carding and sewing. The family-owned company, founded in 1852, employed more than 8,800 people and generated a turnover of around €740 Mio. in 2017. Groz-Beckert operates with agencies, production and distribution subsidiaries in more than 150 countries around the world.