Machine needles for embroidery
People have been using embroidery to decorate all kinds of fabric for hundreds of years. Originally done by hand, machines have now largely taken over. Then as now, the tool 'needle' plays a major role.
The manufacturing of laces can also be traced back hundreds of years. The development of large embroidery machines (Schiffli machines) has also raised the demands made on embroidery needles.
Needles from Groz-Beckert deliver immaculate results even at very high embroidery speeds and when using different materials and yarns.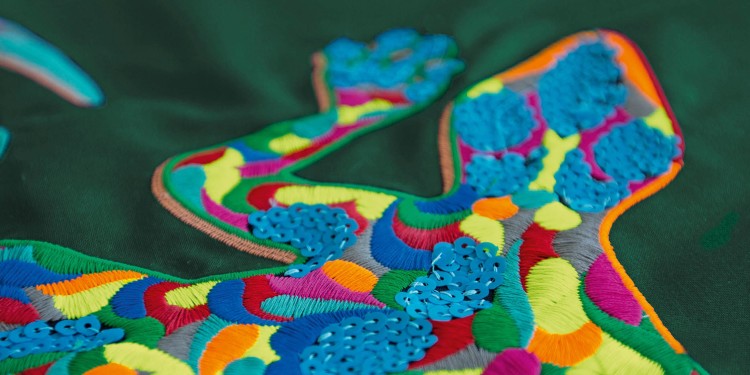 Operation of embroidery machines
Embroidery is used to decorate all kinds of fabrics by sewing thread in or on to it. These days it is usually done mechanically by computer-controlled machines.
Embroidery machines are primarily used to embroider articles of clothing such as T-shirts, socks and caps. The fabric to be embroidered is first placed on an embroidery backing and then spanned into an embroidery frame.
As per the embroidery file, the different colored yarn rolls are laid in and the various yarns stitched on in sequence. Since embroidery heads are outfitted with several needles, yarn rolls need not be changed during the stitching process.
Classification of embroidery machines
Embroidery machines generally fall into the flatbed or free-arm machine category. They are further classified into single and multihead machines.
Multihead machines are equipped with several embroidery heads, which simultaneously stitch identical motifs on several articles of clothing. Single-head embroidery machines have only one embroidery head.
In flatbed embroidery machines the embroidery frames are on a large, non-adjustable table. They are mainly used to embroider pre-cutted parts before they are assembled, and can be fitted with up to 50 embroidery heads.
Free-arm machines are usually used to embroider finished articles and generally do not have more than twelve embroidery heads.
Learn more about single and multihead embroidery in the brochure Machine needles for single and multihead embroidery.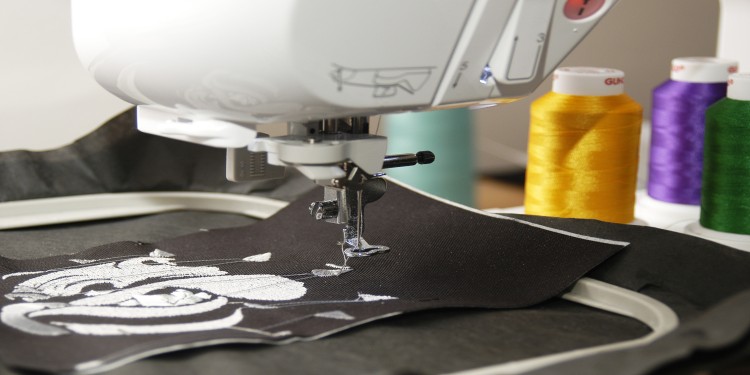 Operation of Schiffli machines
Schiffli embroidery machines are special types of embroidery machines in which lace fabric is made in large lanes. In fly shuttles, they guide a second thread which serves as a shuttle lower thread.
Schiffli embroidery machines are not only equipped with many needles, but also many fly shuttles on the opposite side of the fabric. The second thread, the shuttle thread, is guided on this fly shuttle.
In this way the Schiffli machine works with a two-thread system – similar to a sewing machine. When the needle goes back with the needle thread, a loop is formed. The fly shuttle travels through this loop and takes up the needle thread. The shuttle thread and needle thread are thus intertwined.
The advantage of the Schiffli machine is that significantly longer threads can be used, since the thread does not need to be entirely pulled through the fabric after the stitch is formed. The relatively large bobbins in the fly shuttles also allow for long periods of uninterrupted stitching.
Needle system DB x K5
For high functional reliability in embroidery machines
The needle system DB x K5 has been specially designed for use in embroidery machines. Its use reduces skipped stitches and thread breakage, helps protect thread and material and ensures secure loop pick-up.
Thanks to its special geometry, needle system DB x K5 displays higher resistance to deflection than other needle systems used in embroidery (for example DB x 1). It stands up better to the high demands made by embroidery machines.
The larger eye of the DB x K5 delivers further benefits by protecting thread and material, thus leading to less thread breakage and secure loop pick-up.
Special application needle DB x K5 SAN™ 1 GEBEDUR™
For special embroidery applications
Thanks to its special features, needle DB x K5 SAN™ 1 GEBEDUR™ is excellently suited to the embroidery of hard-wearing products such as baseball caps and leather.
The special characteristics of needle DB x K5 SAN™ 1 GEBEDUR™ provide many advantages over the standard version. The reinforced blade boosts needle stability and reduces needle deflection and breakage. The larger eye simplifies threading and facilitates smoother sliding of the thread. The scarf chamfer and the optimized geometry between eye and scarf improve loop pick-up and reduce the occurrence of skipped stitches. Moreover, the GEBEDUR™ coating provides maximum protection from wear.
Learn more about needle system DB x K5 SAN™ 1 GEBEDUR™ in the brochure Machine needles for single and multihead embroidery.
Schiffli needles
For use in Schiffli machines (large embroidery machines)
Needles are a tool which play a major role in lace manufacture with Schiffli machines. Schiffli needles from Groz-Beckert are up to the challenge.
Schiffli needles from Groz-Beckert are available with different points: standard point RS (universal application, suited to burnt-out and curtain embroidery), medium ball point FG (especially suited to knitted fabrics) and large ball point TR (suited to open fabric structures). The needles are furthermore color-coded in order to prevent mix-ups of different needles sizes and point types.
Learn more about Schiffli needles from Groz-Beckert in the data sheet Schiffli embroidery.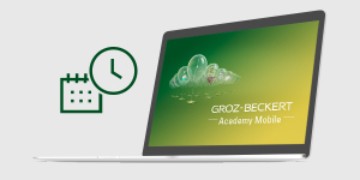 Online seminars
Enjoy interesting live presentations all around the sewing machine needle and sewing.
more information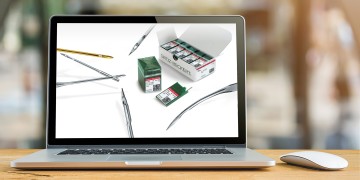 The way to the right product
Find the right product quickly and easily using the Product Catalog on our online Customer Portal.
to the Product Catalog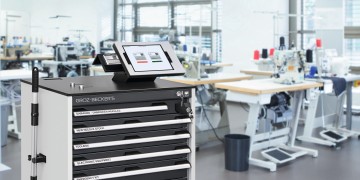 Still searching or already sewing?
The INH Quality Management offers a variety of solutions for the ideal handling of sewing machine needles in sewing plants.
to INH Quality Management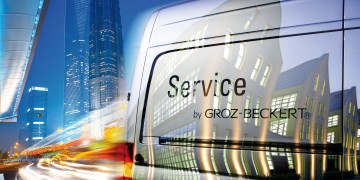 Sewing and joining service
For quick solutions to application problems, with comprehensive competence in sewing issues.
find more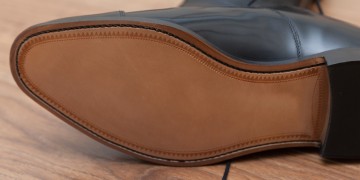 Shoe machine needles and awls
Groz-Beckert offers about 200 different needles and awls for stitching the midsoles and soles of shoes.
find more
Are you already familiar with our newsletter?
The Groz-Beckert newsletter keeps you informed on all the latest developments in the textile world. Would you like to know more? Go ahead and register.
to the newsletter